There aren't many newspapers in China which are written in English. I've seen around 5 : one dedicated to business, a couple others that have to do with sports and two all-around news ones, my favorite being The China Daily. It is definitely the most well written, but that's not saying much. About every other day I pay my 1块5 (around 20cents) and read while I eat lunch . It's become as entertaining as the Onion. My favorite section is one called Across China, which is comprised of many short articles where they bring you up to date on the happenings in other provinces.
Things like this...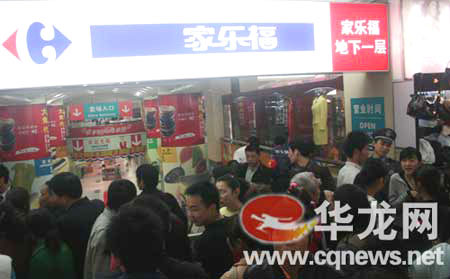 CHONGQING
STAMPEDE VICTIMS SAFE
All the people injured during a stampede at a Carrefour outlet in Southwest China are recovering, officials said. Three have been discharged from hospital, an official of with the Shapingba district government of Chongqing Municipality said.
The stampede happened early Saturday morning when people flooded into the Carrefour outlet in Shapingba to take advantage of a sales promotion for cooking oil.
Three people were killed and 31 others were injured in the accident.
Occasionally, when I am in the van which takes all us teachers from the office to the elementary we teach at, I read the colorful headlines aloud...
POLLUTERS WILL PAY
HUNGRY MAN SURVIVES TWO-WEEK FAST IN TRUCK
OUTRAGE OVER USE OF RECYCLED CONDOMS
FIREWORKS CLAIM 40
The more serious, worldly articles in the newspaper manage to say nothing at all in 2000 words. I read the main articles, but somehow, am not any more informed, which is quite frustrating. That frustration, however is easily fixed. You gotta read the headlines, skip the uninformative blabber and jump right into the juicy sections like Across China where you get tiny informative niblets of ridiculous substance.
I understand you, China Daily.